Posted by Horror Grinder on October 16, 2008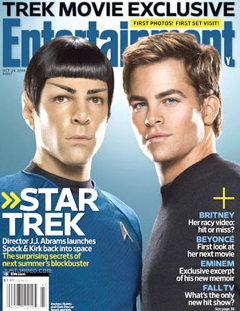 You may or may not know this but I love and hate Entertainment Weekly, I can't go 1 week without reading it, but boy do they piss me off sometimes. Like the time they ruined the ending of first season of Desperate Housewives for me, but I digress, because this has nothing to do with my relationship with ET or horror actually. So why are we publishing this then? Well some horror fans are Star Trek fans and may be interested in these new pictures from ET Weekly.
Introducing our new Not Horror But… section here is the cover of this weeks Entertainment Weekly featuring Zachary Quinto and Chris Pine in their Star Trek XI uniforms as Mr. Spock (Sylar makes a creepy looking Spock) and James T. Kirk, and bridge shot of the Enterprise crew.
From left to right: Anton Yelchin as Chekov, Chris Pine as James T. Kirk, Simon Pegg as Lt. Montgomery Scott, Karl Urban as Dr. McCoy, John Cho as Sulu, and Zoe Saldana as Uhura.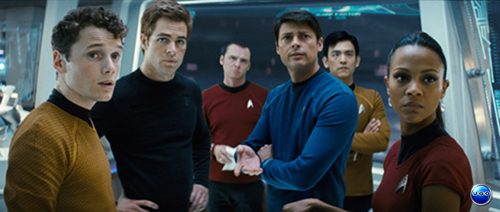 For a lot more Star Trek pictures visit Geeks Of Doom here.
Stabbed first by horroryearbook.com